Washington State Fair (Puyallup Fair) Information
Washington State (Puyallup) Fair – Official Fair website.
This year's Fair ran from September 1-24 (Open Labor Day Weekend but Closed Tuesdays & Sept. 6 (Wednesday)). The PNNA was in the Hobby Hall the entire time the Fair was open.
See the 2023 Hobby Hall volunteer schedule.
If you have questions or wish to volunteer for next year, please contact Hobby Hall coordinator Rick Schulz via email at richardf53@yahoo.com, or by telephone at 253-535-0690. Also see the articles Rick wrote in the 2nd Q 2023 edition of The Nor'wester and the 3rd Q 2023 edition of The Nor'wester.
As Rick noted in his latest article, "Every year, as the start of the Fair draws near, there are often (volunteer) shifts remaining to be filled."
For much more discussion of what the PNNA does at the Fair, see "General Information" below, and/or the articles linked above.
Still have some questions about coins, the PNNA, or numismatics in general? Send you inquiries to info@pnna.org.
The Washington State (Puyallup) Fair began Labor Day weekend (on Sept. 2), and ended Sept. 25, 2022. We hope you were able to attend, and we'll see you again in 2023!
PNNA activities at the Fair took place in the Hobby Hall, with full 10 a.m. to 10 p.m. coverage each day the Fair was open. (The Fair was not open on Tuesdays or the first Wednesday.)
Message (2022) by PNNA Fair Chairman Rick Schulz
See the 2022 Hobby Hall volunteer schedule.
Once again it is time to start talking about the Washington State Fair coming up this September. As most of you know, the PNNA sponsors a display in the Fair's Hobby Hall and for the past few years there has been a lot of uncertainty as to how this would be accomplished. In 2019 the Hobby Hall moved to a new location where we could only display for half of the run of the Fair. In 2020 the Fair was cancelled due to COVID-19, and in 2021 our display was reduced to one display case and a few "demonstration" periods. It has been a while since we last were able to meet and greet the thousands of Fair visitors who, year after year, stop by our table.
Last September I had the opportunity to meet the new director of the Hobby Hall. He was very enthusiastic about getting us back to a full, run of the Fair, staffed display like we've enjoyed in the past. This, of course, is great news, but it is only part of the equation. In order for us to participate, we must staff the display whenever the Hobby Hall is open. This means, as has always been the case in the past, that we need volunteers.
For those of you who have volunteered in the past, you know the drill. For the rest, here's how it works. The 2022 Fair runs September 2-25. The Hobby Hall is generally open from 10 a.m. to 10 p.m. which we break down to three four-hour shifts. The 10 a.m.-2 p.m. and the 2-6 p.m. shifts tend to be the busiest, so we'd like at least three volunteers. The 6-10 p.m. shift requires just two volunteers. This comes to a total staffing requirement for 160 positions. I know that sounds like a lot, and it is, but we have been able to cover all shifts in the past and I know we can do it again for 2022.
So where do all these volunteers come from? If you are reading this and it sounds like something you'd like to do, my name and contact info can be found up top. If you are a member of a local club, especially in Western Washington, you can expect to see me or another PNNA representative at your meetings this spring looking for volunteers.
What can you expect if you volunteer? Basically, you interact with Fair visitors who stop by our display. Many of these visitors are kids lured to our table with the promise of a penny from their birth year and an opportunity to make their own squished penny. This is open to kids of all ages. You also field numismatic questions and hand out club and show information. If you're wondering what its like, just ask anyone who has done it in the past. Everyone will tell you that it is great fun.
So, what's in it for you besides a warm fuzzy feeling from having volunteered for a great cause? Every volunteer receives free passes to the Fair so, when you're not covering a shift, you're free to "Do the Puyallup." Free parking is also available.
Let's hear from you and make this year's Hobby Hall display great! Thanks, Rick.
General Information
Each year in the spring, summer is just around the corner, and it is time to start thinking about the Washington State Fair. In particular, it is time to start thinking about the Pacific Northwest Numismatic Association's (PNNA) display in the Hobby Hall of the Washington State Fair. As many of our readers know the PNNA hosts a numismatic display at the Fair every year. It has become a very popular attraction over the years which many visitors have made it a must-see during their trip to the Fair. As a coordinator for the display, it makes me very proud when I see all the work we do so appreciated.
Why do we do it? Our presence at the Fair gives us a chance to expose the fair going public to the hobby that we all love. Visitors get to see coins that are sometimes familiar and sometimes not so much. Coins, currency, tokens and medals from around the world and from times past are there for them to see. Our display often generates questions that we are there to answer. We also answer questions from folks with collections they've inherited and don't know what to do with. We help them figure it out. And then there's the kids, who love the games we play and the free stuff we give away and who love to create their own souvenir with our penny press. Thousands of kids visit our display every year. For many it is their first stop at the Fair. It's hard to say how many of these kids have become collectors after visiting us but I'd like to think there have been a few. The fact that they come back year after year to look at our display and play the games makes me believe that if they haven't been bitten by the collecting bug yet, they may just pick it up when they're older. All we can do is show what we have to offer.
The Fair now runs for more than four weeks which include four weekends in September. Every day the Fair is open the Hobby Hall is open during which we are required to staff our display. To fill all this time, we ask for volunteers to staff our display and interact with our visitors. As in past years our volunteers are asked to cover shifts of four hours. Many who have volunteered in the past report that they had a wonderfully fun time and jump at the opportunity to sign up again for one or two or even more shifts. For giving us a few hours of their time, our volunteers receive passes for the fair so when they are not at the display they can "do the Fair." Parking is also free for volunteers.
All PNNA members and members of PNNA member clubs are welcome to volunteer to help us out at the Fair. In the past most volunteers came from along the I-5 corridor, from the Everett WA area to the Salem OR area. This makes sense because the fairground in Puyallup lies between these areas. Working our display for four hours and doing the Fair the rest of the time can be a one-day excursion. I'd like to see some volunteers from other parts of the PNNA area, but I understand that, for many, it can be quite a drive. What if volunteering for a four-hour shift at the PNNA's Hobby Hall Display were just part of a mini vacation to Western Washington? Doing the Fair is a big deal. The Washington State Fair is one of the biggest in the country and offers a pro rodeo event, big-name entertainment, numerous free shows and tons of all the stuff you expect from a state fair. Go to the official Fair website for the entertainment coming this September and all the other attractions the Fair has to offer.
There are loads of things to do in the Puget Sound area besides the Fair. You could spend a day or three, do the Fair and still have time to get reacquainted with the region. You would also get to meet some fellow collectors who you'd be at the display with you.
In recent years we've been asking local clubs to volunteer to take over the display for a whole day, thus making it their club's day at the Fair, complete with their own banner, handouts and giveaways. This gives them an opportunity to plug their club and, hopefully, bring in a few new members. We've had a number of local clubs take advantage of the and look forward to doing it again this year.
Speaking of handouts and giveaways, we do it big at the Hobby Hall display. Every year we give away more than 10,000 pennies to kids of all ages. We invite kids, again of all ages, to search through our trays of loose pennies looking for their birth year. When it is found we place it in a 2×2 holder identifying it as coming from the Fair and the PNNA. We also supply copper cents to roll in our penny press for all "kids." Each year we have a new, dated, fair-themed elongated design to hand out. We also give away world coins and currency, as well as tokens and medal when we have them.
So, you see, the Fair is a big deal for the PNNA, and we look forward to it every year. It gives us a chance to support and encourage coin collecting in our region and to let people know that we are out there for them to answer their questions and support their interest in collecting.
If you'd like to be part of it, contact Rick to sign up for one or more shifts. Also, I will be visiting local coin club meetings in the Puget Sound area in search of volunteers. If you've volunteered for shifts at the Hobby Hall display in the past, you already know how much fun it is. If you haven't signed up yet, you don't know what you're missing.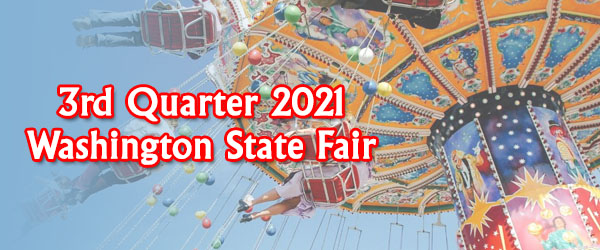 The Washington State (Puyallup) Fair began Labor Day weekend (on Sept. 3), and ran until Sept. 26, 2021.
PNNA activities at the Fair took place in the Hobby Hall, for nine specific two- to five-hour presentations only (NOT the entire Fair as in the past).
Photo above: Although the PNNA did not have a continuous presence at the 2021 Fair, it did have a nice display case, shown here.
The Hobby Hall restructured for 2021 and no longer had a dedicated area for the PNNA and other similar in-person activities (although the PNNA did have one static display case). See the PNNA's 2021 schedule. The Hobby Hall was also in a different building (the Pavilion) than it was for many years.
Due to uncertainties about the 2021 Fair, the PNNA did not produce a special edition of The Nor'wester for the Fair. Instead, the 3rd Quarter 2021 edition of The Nor'wester was a smaller 8-page color edition, and extra paper copies were not available. Members subscribed to paper copies should have received their copies by about August 12, 2021.
2020 Fair (Cancelled)
CANCELLED due to virus concerns!
The Washington State (Puyallup) Fair was scheduled for Sept. 4-27, 2020, but was cancelled.
Due to the cancellation of the 2020 Fair, a smaller black & white edition of The Nor'wester was produced and mailed to members on 7/27. See this (3rd Q 2020) edition.
2019 Fair
The 2019 Fair ran from August 30-September 22, 2019.
3rd Q 2019 special Fair edition of The Nor'wester.
2018 Fair
The 2018 Fair ran from August 31-September 23, 2018.
3rd Q 2018 special Fair edition of The Nor'wester.
4th Q 2018 edition of The Nor'wester with Fair report.
2017 Fair
The 2017 Fair ran from September 1-24, 2017.
A report was printed in the 4th Q 2017 edition of The Nor'wester.
2016 Fair
Beginning in 2016, the Fair includes four weekends, but is closed on Tuesdays and on the first Wednesday. Official Fair website.
The 2016 Fair ran from September 2-25, 2016.
A report was printed in the 4th Q 2016 edition of The Nor'wester.
2015 Fair
The 2015 Fair ran from September 11-27, 2015.
A report was printed in the 4th Q 2015 edition of The Nor'wester.
2014 Fair
The 2014 Fair ran from September 5-21, 2014.
A report was printed in the 4th Q 2014 edition of The Nor'wester.