Introducing the PNNA
Serving Numismatics in the Northwest since 1940.
ANA Exemplary Service Award recipient – 2015.
The Pacific Northwest Numismatic Association (PNNA) is a nonprofit regional organization for numismatists — persons who study, collect, or deal with coins, paper money, tokens and medals. Please see the info page for more information about the PNNA, or send inquiries to info@pnna.org. Thank You!
New to the hobby? – See the ANA Coin Collecting & Numismatic Tools webpage. Also see the reference page for links to the ANA eLearning Academy and other resources.
Welcome to the new mobile-friendly PNNA website built with WordPress. Some linked pages will remain "legacy" pages on the old website for now. An alternative menu page is provided in case the main menu at the top of each page doesn't work correctly.
Please consider doing business with one of our sponsors, all of whom are PNNA members. Hover over business card image to stop automatic scrolling, or visit the sponsor page.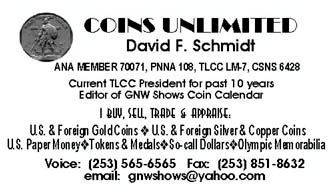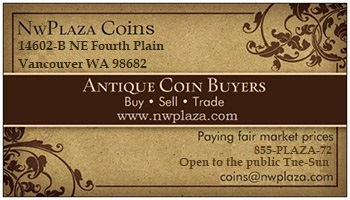 Conventions & Special Events
Upcoming/Recent Event Summary
PNNA 3rd Q 2022 edition of The Nor'wester – See the linked blog post, or go directly to the PDF file. As announced herein, there will be only two main editions of The Nor'wester each year, for the spring convention and the fall coin show. The other two editions will be short letters like this edition.
The ANA World's Fair of Money® (anniversary convention) was held August 16-20, 2022 at the Donald E. Stephens Convention Center in Rosemont (Chicago), IL.
The Washington State Fair in Puyallup ran from Sept. 2-25, 2022, and is now over. See the PNNA Fair webpage for information. The PNNA fully participated in this year's Fair, in the Hobby Hall.
The 4th Quarter 2022 special coin show edition of The Nor'wester is now available online. It's a 24-page color edition! See the blog post.
Pacific Northwest Numismatic Association
17th Annual Fall Coin Show, Tukwila, WA
October 7-9, 2022
This will be the second PNNA Tukwila fall coin show! (The first 15 annual fall coin shows were jointly hosted with the WCC in Portland.)
Willamette Coin Club
24th Annual Fall Coin Show, Clackamas, OR
November 12-13, 2022
The Boeing Employee's Coin Show in Kent, Washington, is scheduled for January 14-15, 2023. Although this show is not a PNNA-sponsored event, it is one of the largest shows in the Northwest, and the PNNA may participate in Scouting or other programs at the show.
The ANA NATIONAL MONEY SHOW® is scheduled for March 2-4, 2023 in Phoenix, Arizona.
Completed Event Summary
To save space on this homepage, the completed events summary has been moved to a separate page under "Events."
Other News Summary
PNNA Memorabilia Wanted!
The PNNA has issued souvenirs for many of its past conventions. See the memorabilia catalog. Marty Shallow (A Coin Shop, LLC) purchased a major collection of PNNA and Washington State club memorabilia, and has a want list for more items.
Greetings from the PNNA!
See recent PNNA President's messages.
Classics! Revisit some articles and galleries from the past, recently reformatted as PDF files:
ANA Conventions and Shows in Portland, Ore. – 1998 to 2015
Ancient coins (compilation of articles) by Joseph Kleinman.
Numismatic Remembrance of National Tragedies.
1959 Oregon Centennial Tokens (Introduction to) by Katie Reinders.
United States Colonials – A Picture Gallery
Washington State Quarter Design Contest (held 2002-2005).
Are you looking to fill in holes in your Washington State Centennial Medal collection (including especially the county medals not pictured above)? See a recent blog post by Rick Schulz for an update on what the PNNA is doing to help you complete your set, or trade medals you may own.
The PNNA logo shown on this website was approved by the board on July 23, 2016. Thanks to Tim Garcia for designing this logo, based on the 75th anniversary medal design by Thomas D. Rogers.
Previous news summaries from the website are now available by decade and year under the "News" menu.
On behalf of all PNNA officers, committees and members, I would like to welcome you to the PNNA blog, which allows the association's officers and other designated persons to communicate directly with our web audience about PNNA news, activities and other items of interest. Please feel free to contact the PNNA, email info@pnna.org, with your comments and suggestions.
Blog posts will appear on the main blog page, with older posts archived by month and year. To display only blog entries in a specific category (such as "Club messages"), click on that category in the sidebar or at the top/bottom of the page.
– Eric Holcomb, PNNA webmaster
Website Info
ANA member number C-1000037 (old ANA Life Club #37)
The PNNA suggests that you also visit the American Numismatic Association site.
Did you really want the Pacific Northwest Newspaper Association? — They're pnna.com, we're pnna.org!
Privacy and data usage policy.
Updated 9/26/2022 by J. Eric Holcomb, PNNA Webmaster.
Inquiries: Please send to info@pnna.org. Thank You!
Web hosting courtesy of DreamHost, Brea, Calif.