These individuals and businesses have paid a $10 annual fee to help offset the expenses associated with this website. All are PNNA members in good standing, however the PNNA does not officially endorse or recommend specific dealers.
Washington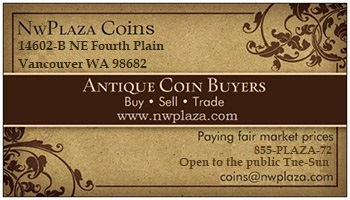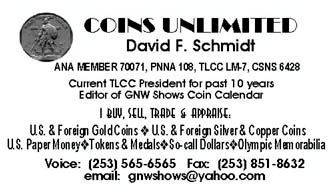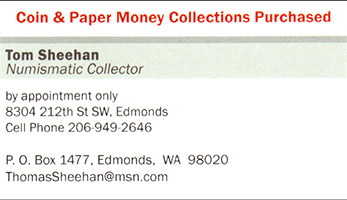 Bob's Coin Shows
Affordable booth space available at coin shows in Kent and Bremerton.
Bob Kinsedahl, PO Box 717, Spanaway, WA 98387
Ph. (253) 537-6049, kinsedahl_robert@comcast.net
Oregon
Idaho & Other States
Become a Sponsor
PNNA membership required.
Send text and graphics to: Eric@Holcomb.com.
(Note: graphics will be reduced to about 350 pixels wide.)
Send $10 annual payment to the PNNA treasurer listed on the officer's/board page, or request a PayPal invoice.
All ads subject to PNNA approval.