PNNA Spring Convention / Coin Show
PNNA Convention (71st Annual)
Tukwila, Washington
The convention is scheduled for April 8-10, 2022.
PNNA shows normally feature a large active bourse, exhibits, numismatic theater and club meetings, and a popular young numismatist (YN) program.
The PNNA convention is the oldest and biggest annual coin show in the Pacific Northwest. Most of the info below will apply in 2022, and will be updated as needed.
Location: Tukwila Community Center, 12424 42nd Ave. So., Tukwila, WA.
Admission/Hours – Public show hours: Friday Noon – 7 PM, Saturday 10 AM – 6 PM, Sunday 10 AM – 4 PM. Admission $2.00 per day, $5.00 for all three days. Children 12 and under are free. "Early Bird" admission (9 AM Fri/Sat/Sun) is $30.00.
Dealers – 85 local, regional and national numismatic dealer booths. A dealer list and map are posted at each show. Most past show reports include a dealer list.
Education/Exhibits – Educational Numismatic Theater presentations and meetings are normally held on Saturday. Continuing Education Volunteers Wanted – See the education committee page. There are also outstanding competitive collector exhibits at each PNNA convention.
Hotel info – Marriott Courtyard Seattle Sea-Tac Area, Address: 16038 West Valley Highway, Tukwila, WA 98188. Information for PNNA group rate: will be posted in advance for each show.
Grading Services – ANACS is expected to attend again in 2022. Discount codes are also available for online submissions. Note: ANACS accepts submissions but a grader is not present at PNNA shows.
Literature – Free sample copies of The Nor'wester are normally available at each show.
Parking – Plenty of free off-street parking. – See the driving directions. Located just 10 minutes from SeaTac Airport and 20 minutes from downtown Seattle.
Prizes and Souvenirs – Hourly door prizes. (Prizes are mailed to winners not present.) "Squished" or elongated cents will be available as souvenirs, thanks to the PNNA's popular machine!
Youth Activities – Young Numismatist (YN) treasure hunt is normally offered on Saturday and Sunday, as part of youth and family activities. See Young Numismatist (YN) program information. Boy and Girl Scout programs will be offered again in 2022 – See scouting page.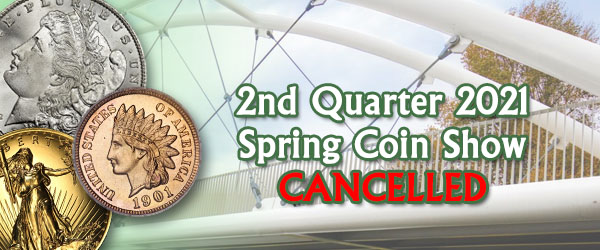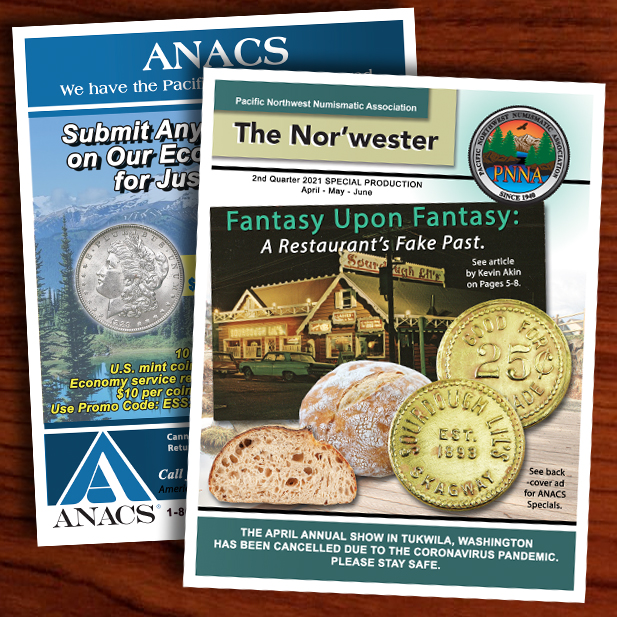 CANCELLED!
PNNA Convention
Tukwila, Washington
The convention was scheduled for April 9-11, 2021.
See 2021 2nd Quarter edition of The Nor'wester online.
CANCELLED due to virus concerns!
The 2020 spring convention, scheduled for April 17-19, 2020, was cancelled.
CANCELLED due to low registration!
ANA seminar, Counterfeit Detection Seminar: Classic Fakes & Chinese-made Counterfeits, was scheduled for April 15-16, 2020 in Tukwila, WA.
See 2020 2nd Quarter edition of The Nor'wester online.
For Dealers – PNNA Tukwila bourse application (2020).
General Chairman: Kevin Charboneau.
Bourse Chairman: Scott Loos. Ph. 425-463-6551 (cell)